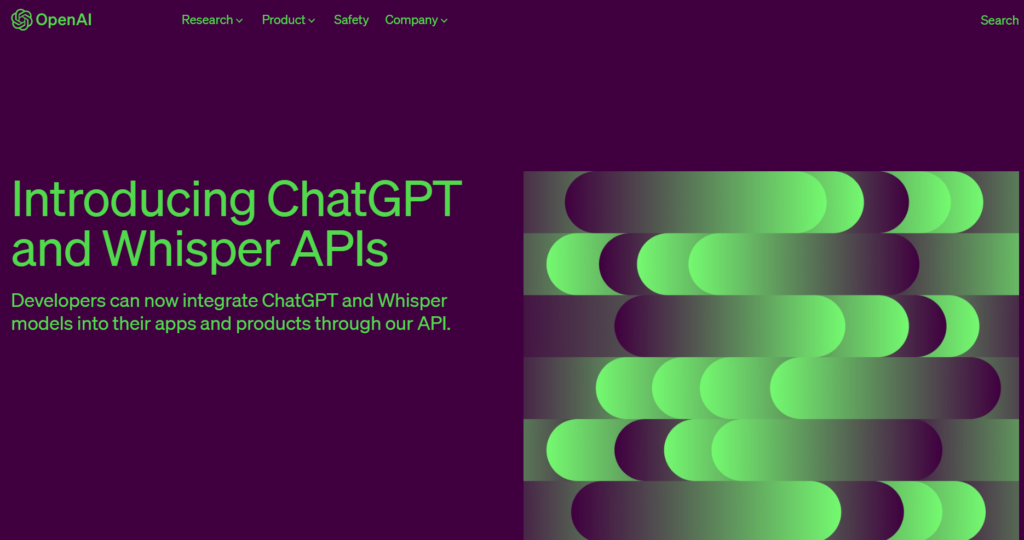 On March 01, 2023, OpenAI announced the releases of APIs for ChatGPT (published on Nov 30, 2022) and the automatic speech recognition (ASR) engine Whisper for speech-to-text (STT) transcription (and translation) that was open-sourced in Sept 2022.
The ChatGPT model family is called gpt-3.5-turbo and costs just $0.002 per 1k tokens, which is 10 times cheaper than the existing GPT-3.5 models. Instead of consuming unstructured text as traditionally done by GPT, the ChatGPT models consume a sequence of messages with metadata following a new format called Chat Markup Language (ChatML). The number of tokens (tokens in prompt + tokens in response as available via response['usage']['total_tokens']) is restricted to 4096. Notice that there is no possibility to fine-tune gpt-3.5-turbo models.
For Whisper the large-v2 model is now available through an API for a price of $0.006 per minute. The API contains endpoints for transcriptions (transcribes in source language) and translations (transcribes into English).
In addition, the possibility of dedicated instances for professional users was announced that can make economical sense beyond ~450M tokens per day.
A significant change that was made in the Terms of Service and Usage Polices is that data submitted to the API is no longer used for service improvements (e.g. model training) unless an organization opts in. Before it was necessary to opt-out.